Disclosure: This post may contain affiliate links, meaning if you decide to make a purchase through my links, I may earn a commission at no additional cost to you. See my disclosure for more info.
I was 6 years old when I sat in the First Baptist pews for Sunday morning church. I often sat with Betty and Betty was special. I remember the flip on the ends of her short gray hair that she smoothed back over her head. She walked with a limp. I can still see her walk and thinking back on it, it might have been her hip. I'm not sure why I ever started sitting with Betty. But I do remember this. She would look at me and ask, "Can you smile today?" I'd say "No." And smile the biggest I could. She would then say "Your eyes are beautiful. And they sparkle." Now she never said exactly what they sparkled with. So maybe it was mischief? But I like to think that she saw me as a unique child. She certainly made my heart feel big.
Then there was my 2nd grade teacher, who called me "Sunshine." She said I always brightened her day. I know I loved reading group, even though most kids weren't so crazy about it. Some of why I loved it so much might have had something to do with each time it was my turn to read. I would hear Miss Manning's soft voice say: "Alright, Sunshine. Your turn."
Somewhere along the way, after those early grade school years, thoughts of being not enough, not pretty enough, not smart enough, just simply not enough, began to swell. I forgot about those two important women who spoke beauty into me. And even now as a grown woman with a houseful of children and a lot of life experience, Satan knows that those whispers of "not good enough" can push me back in a hole.
What's a girl to do?
Fight back with the truth of God's Word.
The fabulous devotional I was working through tonight is titled "You're Beautiful." And for those folks who are like me, facing that temptation to believe the lies of Satan when we have the Holy Spirit living inside of us, this devotional and the beautiful art packaged along with it is just perfect.
I was reminded of so many things I need to remember every single day. As the 15 day You're Beautiful devotional says on Day 2:
God says I am a MASTERPIECE. (Ephesians 2:10)
He says I am FEARFULLY AND WONDERFULLY MADE. (Psalm 139:14)
He says I'm a NEW CREATION. (2 Corinthians 5:17)
He says that I'm an ORIGINAL (Psalm 139:15-16)
He says that I am MADE FOR A PURPOSE. (1 Peter 2:9)
He says that I am ENOUGH and I am BEAUTIFUL.
As many of you know, I've fallen in love with Bible journaling. I wouldn't call myself an artsy girl, but I love how taking the time to create and form letters and designs in my journaling Bible has encouraged my heart in several ways. Look at the world around you and all God created. He loves creation and the creative process. He saw "it was good." We are made in his image, patterned after his likeness. This means we were made to create! So even though I've only used stamps one other time in my life, when my friends at Dayspring offered this You're Beautiful devotional kit, I snatched up the opportunity!
I worked on a (yes, as in single, never did it again) stamping project one time years ago. Years. So I dug out the stamping blocks I had purchased way back then. These blocks did not come in the kit; I purchased mine at Michael's Arts and Crafts years ago.
I was a little nervous about doing this for the first time in years, so I started with one of the pages in the devotional to journal instead of my journaling Bible. I also had a scrap piece of paper I used for testing the stamping, how firm I should press, etc.
I tried penciling in on the bookmark before I wrote over with a Zigwriter. That was a mistake. The cardstock for the bookmark had a shine to it and the pencil didn't work well on it. Neither did the Zigwriter, but I think it was because of the pencil markings. If I had this to do over, I would try the Zigwriter as the first application.
Then I got a little braver and did a double page in one of my journals. I love to do lettering in the journal with dots in the layout. It makes it so easy to size appropriately and yet still looks really cute when you're finished.
The quote in the middle was taken from one of the pages of the You're Beautiful devotional. The black ink for the quote is my own script. I penciled in first, then copied over it with a Zigwriter. I tried to make the fonts similar to the patterns on the devotional cover in order to coordinate.
I also had a green ink pad and tried it with the hearts and dots stamp. The color was too dark for the green in the washi tape so I stamped over it in black. You can still see a little of the green, but it's not bad. (in the photo above)
The photo above includes everything in the devotional kit AND I didn't realize the card had some goodies printed on the inside that you can cut out and use as tags and bookmarks and fun add-on's! So this is what it looks like:
My daughter wants to have some fun with those and they are perfect for her! If you're not a crafty gal, like me, I think you will still LOVE this kit. It's easy to use, fun to play with, and best of all, emphasizes God's word as the total truth. I enjoyed working with it so much! My next project with the supplies is going to be a page in my journaling Bible, so be sure to follow on Instagram if you want to see how that turns out!
I'll leave you with this Message paraphrase of this verse to reflect on today:
Summing it all up, friends, I'd say you'll do best by filling your minds and meditating on things true, noble, reputable, authentic, compelling, gracious—the best, not the worst; the beautiful, not the ugly; things to praise, not things to curse. Put into practice what you learned from me, what you heard and saw and realized. Do that, and God, who makes everything work together, will work you into his most excellent harmonies. Phil. 4:8-9
If this verse resonates with you, then you'll especially love chapter 10 of One More Step, all about how to stop watering the weeds of our minds!
Happy Thursday! Feel free to ask any questions about the above in the comments!
By his grace,
Rachel
Resources:
You Are A Child of the Most High God (free printable)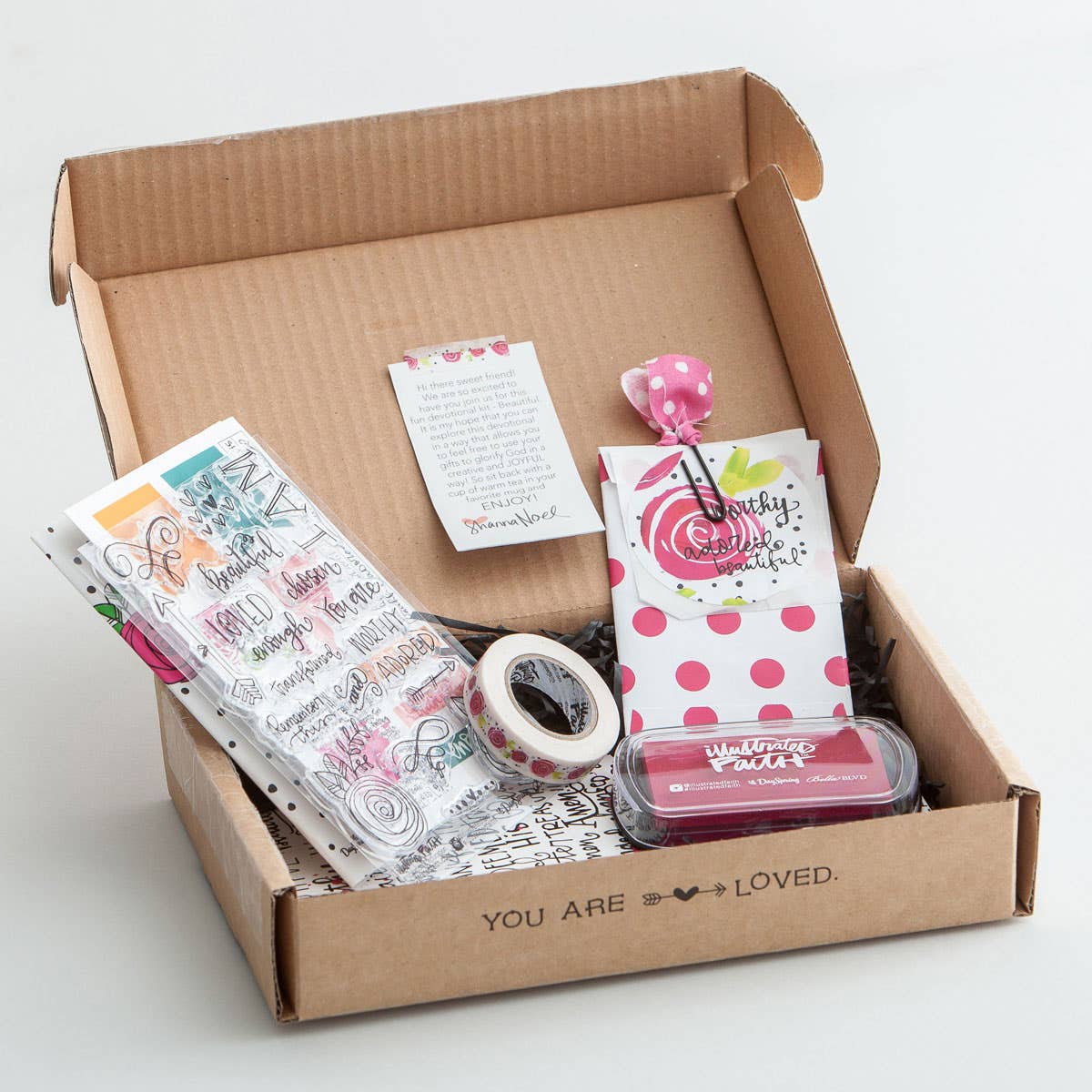 Illustrated Faith – Beautiful – Devotional Kit
Don't miss the free online One More Step Bible study! Registration closes 3/26!