Re-post today. Be sure to come back tomorrow for our weekly Bible Reading Challenge check-in AND we have a fun giveaway planned! So don't miss it!
"There's no sweeter sound than to hear your baby say "DA-DA"."
This was my husband's facebook status last week. I replied that I thought "MAMA" might be sweeter. We have yet to hear "Mama," but the dada song has been going all week. I think the little one has him wrapped around that pinky. In fact, she probably did the moment she was born.
One of our other sweet girls, Taylor, hasn't been able to speak for the last seven years due to her disease of MPS. We have video coverage of her calling Mommy and teasing Daddy. I treasure those tapes so much. She has spent more of her life non-verbal than she did verbalizing. Oh the joy we will have in Heaven when she is made whole and we hear "Mommy" and "Daddy Matt" once more!
If the sound of our children calling our names brings such excitement and happiness, imagine how thrilled our heavenly Father is when we call on His name!
Galatians 4:6 says, "And because ye are sons, God hath sent forth the Spirit of his Son into your hearts, crying, Abba, Father."
To His ears, there is no sweeter sound than His babies asking for Him. His arms are open and He is eagerly anticipating a precious conversation with His dear child.
When was the last time you crawled into those arms and enjoyed His presence?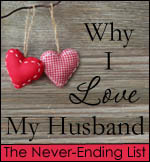 Today my friend, Fawn, at the Happy Wives Club is having her first link-up party! So I've linked this post up with her awesome, happening place with 5 reasons I love my husband.
1. He writes facebook statuses like the one mentioned above because that's his heart.
2. His heart is huge and he loves to help people.
3. He loves me without reservation.
4. He's hot. Really, he is.
5. He gives me so much encouragement to write.
The list could go on, but I'll stop it for now. 🙂 Be sure to stop by The Happy Wives Club and join in the fun!