Holiday Teaching Moments for Kids
Hey there!  I have some friends who have fabulous ideas and info on giving your children a wonderful, Biblical education at Christmas, while having a ton of fun!
And here they are: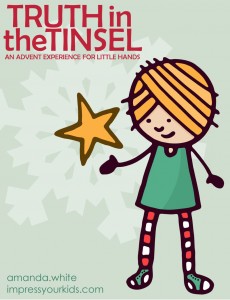 Amanda, at Impress Your Kids, has a fantastic new advent book "Truth in the Tinsel." I know it's a little past the time to start an advent adventure, but is it really ever too late? And you'll have it for next year, whatever you don't finish this month!   Amanda has such an awesome blog and I know you'll love her ideas; they are always fresh and innovative!
Then there are my awesome friends at What's in the Bible? They are completely cool with kids over there and talk about a wonderful Christmas education opportunity! The What's in the Bible? Christmas DVD is top notch.  My son wrote a paper at school; he's almost 10, the paper was 4 pages.  He told me what he wrote about and funny thing, he described it all, then said: "Basically everything I learned about Christmas from What's in the Bible?" Of course, you can check out my post and get a FABULOUS deal on the entire What's in the Bible? dvd set- 50% OFF!  They also have some links to coloring pages and other awesome printables on their blog.
Then Focus on the Family has a free advent calendar on their blog, Thriving Family.  The days are very clearly marked, so go ahead and start today!  They are having contests for prizes each day for those who complete the advent activities. Wouldn't it be fun to win an ipod?
Also, Ann Voskamp at A Holy Experience has a precious advent calendar for free as well. You can find info for it right here.
Plan now for the winter school break; enjoy!