Forget to Pray? It's Never Too Late
Disclosure: This post may contain affiliate links, meaning if you decide to make a purchase through my links, I may earn a commission at no additional cost to you. See my disclosure for more info.
I rushed into the store to get last-minute items to host a birthday party. Reaching into my purse, a sudden sinking feeling washed over me. I forgot the list! Quickly I called my daughter. "I think I left my list on the counter. Could you take a picture of it and send it to me?" Within mere seconds, I had the list and could move on. If only every forgetful occasion could be remedied as quickly.
Have you ever remembered something when it was too late? Last week for me, it was van keys in my purse after I was already through security at the airport. A lunch when you're already on the school bus. Medicine before the pain kicks in. Closing the car windows before the rain. Each of these situations yields consequences that could have been prevented if just one thing had happened—you remembered.
In today's key verse, Jonah remembers what he needs to do in the nick of time. "When my life was fainting away." The verses before Jonah 2:7 explain that Jonah is deep in the belly of the whale and his life is in jeopardy. He can see himself dying, but he remembers the Lord and he remembers to pray.
Recently, I learned that whales typically don't hug shorelines because they know the danger of getting stuck in shallow water. Not only did God hear and answer Jonah's prayer, but He caused the whale to vomit Jonah out on dry land (Jonah 2:10). Not in the deep water where Jonah would have had to swim to shore. Not on choppy waves or on a riptide. No, God specifically located Jonah's drop-off at the best possible location for someone with seaweed wrapped around his head.
Jonah had a history with the Lord, and although the Bible doesn't give great detail, that history was enough to prompt Jonah to pray in the moment of crisis. Perhaps Psalm 116:1-2 was a reminder for him as it is for me, "I love the Lord, for he heard my voice; he heard my cry for mercy. Because he has turned his ear to me, I will call out to him as long as I live." God was listening for Jonah's cry, and upon hearing it, He acted on his behalf.
What does it look like to remember to pray before, during, and after a crisis? While it's never too late to pray, building strong prayer skills before the crisis provides the foundation for during and afterward. These foundational prayer habits serve us well when we find ourselves in the belly of despair or wrapped in the seaweed of confusion.
God is always only a prayer away. He hears every whisper of your heart and every plea for His mercy. He can't wait to have the next conversation with you.
A Prayer for Today
Dear God, thank You for hearing my prayer, no matter when and where. When I'm in the pit of despair, You hear my cry. Thank You, Jesus. Help me remember to pray always. Guide my heart to pray before, during, and after the crisis.
In Jesus' Name, Amen.
What's Your Take?
How have you remembered to pray in times of crisis? Share in the comments!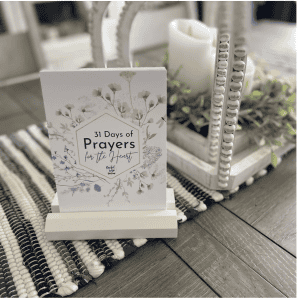 Rachel's Beautiful 31 Days of Prayers for the Heart prayer cards make the perfect reminder to pray before, during and after a crisis. These cards are spot on when I can't find the words."—Savannah.