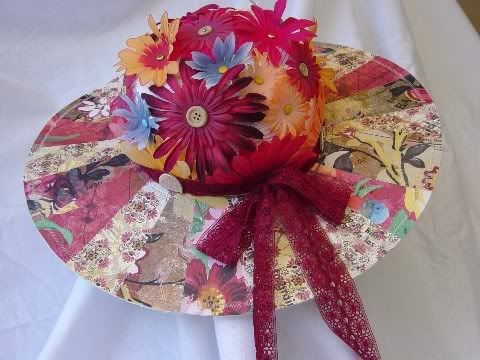 When I think about all that "hats" God has given me to wear over the last fifteen years or so, I am astonished at how varied the opportunities have been. I'm a wife, mother and piano teacher currently. I play in the church orchestra and do volunteer work for the church, the schools my children attend, and the National MPS Society.
In the past, I worked as an office manager, acting paralegal, legal representative for disability cases, and as a consultant for an employee benefits company. In the realm of motherhood: I was a single mom for awhile. I'm a stepmom. I'm mom to a special needs child. I'm just a plain ol' mom to six. Doing housework, loving on kids, trying to keep on top of homework, chores, and fun. Looking forward to any time with my wonderful husband. And most of all, loving God for all the opportunities He has given me and spending time in His Word.
So recently I shared with a dear lady in the ministry that I believe God is calling me to minister to others in a new way. I'm not sure what shape or color that will be, but my heart has been stirred tremendously over the past two years in a more definite Bible teaching and writing direction. This dear lady sent some verses to me: Prov. 3:5&6!!! Now wait a minute! I'm the one that sends that verse to others. What was I supposed to be learning from those verses? I had them down pat. Essentially, my little pea brain can't even begin to understand the ways of God and the "why" is all up to Him. End of story. But as I mulled over the verses and meditated on them even more, the Holy Spirit convicted me about the "when" and the "where." I've been pretty content to leave the "why" up to God recently, but there are other details I sure would like Him to hurry along. How about you?
God is the Ultimate Designer. His plan outlines all the w's: who, what, when, where and why, far beyond our imagination. Our job: trusting Him and doing what we know to do. Stay faithful to His Word, His House and communication with Him.
Pretty simple. You're telling me.
Jack of all moms with A Master of The One