Is it possible that tangible things have a mind of their own? I'm serious; this devilish memory card in my husband's camera decided to stop working on Christmas morning. OF ALL MORNINGS! So after coming up with an alternate solution for the Christmas morning glory, I kept thinking about that memory card. How did it get wiped out? Why did it stop working? Why does it say there are no files on it, but then it says there is only room for five more pictures?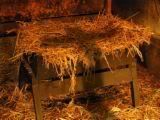 While we are not finished with that silly memory card yet (Cord Camera here we come.), this is the perfect example of God's forgiveness of our sins. We do not have the ability to comprehend all the whys and hows of God's plan of bringing His Son into this world, as a babe in the manger. But His awesome gift is ours to receive and accept it if we choose to do so. Psalm 103:12, "As far as the east is from the west, so far hath he removed our transgressions from us." How far is the east from the west? They are as continually as far away from each other as they can possibly be.
I don't understand what happened to that memory card; and I can't claim to understand the Bible in its entirety. But this I know: I John 1:9, "If we confess our sins, he is faithful and just to forgive us our sins, and to cleanse us from all unrighteousness." My sins are wiped out even better than what was on that memory card. They are remembered no more. Have you asked Christ for forgiveness?