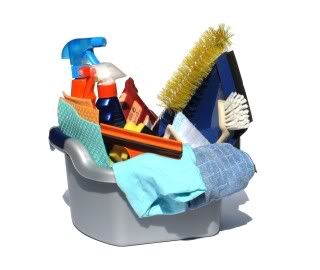 You've seen the sign. Restaurants hang it to indicate a remodeling; retail stores section off their construction work and post it there."Pardon our dust." I admit it; I used to be a total clean freak. Thirteen years ago, when I had one child, my house had to be virtually perfect. I didn't go to bed unless the toilet paper was hanging correctly. And now… well, some hard life lessons learned and five kids later, somewhere in the middle of the chaos, I had to learn an art form grandly entitled… drum roll, please. Balance. Ahh, yes. As much as I still love having a clean house and as much as I still fight the urge to obsess about it, I have learned that there are many things (people) much, much more important.
After all, if the people you love the most go "down the toilet", who really cares if it is clean or not? (Yes, that is original. You can borrow it if you'd like.)
Prioritizing our relationship with God is the key to balance. When life is balanced, we experience peace in an indescribable manner. Choosing to spend time with God in His Word and in prayer brings the peace that we long for, the balance we desire. Investing our lives in things of permanent value is not something that just happens; we have to CHOOSE to pray. We have to CHOOSE to read His Word. We have to CHOOSE to love and serve our families.
Isaiah 26:3 "You will keep him in perfect peace, Whose mind is stayed on You, Because he trusts in You."
"Stayed" means fixed. "Ain't going nowhere."
So pardon our dust; we're choosing balance of a higher sort today.