Disclosure: This post may contain affiliate links, meaning if you decide to make a purchase through my links, I may earn a commission at no additional cost to you. See my disclosure for more info.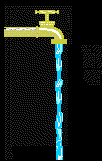 An ongoing plumbing saga has emerged at the Wojnarowski house. This past Saturday we discovered a water stain in our kitchen ceiling. Not a good thing! Since we couldn't find any water on the bathroom floor above the kitchen, this was puzzling and I thought we must have burst a pipe or some other type of accidental issue had occurred. After a visit from the plumber yesterday, the theory at this point is that a very slow leak in the toilet water tank has caused a corrosion that in turn has caused the ultimate ceiling water stain. Wow! The conversation with the plumber presented some very major points that as a homeowner, I had never considered.
Our house has dripping faucets. Hmmm, never thought about their age and how they should probably be replaced.
Our bathroom hasn't had any repairs since we moved in seven years ago. Since nothing was "broken", we didn't do any maintenance.
Slow leaks can cause more damage over the long haul than a sudden plumbing calamity.
So enough about physical plumbing maintenance. What does this have to do with prayer?
Sometimes I think we forget about those dripping faucets. You know, those unconfessed sins that just continue to occur? We fail to communicate with our Heavenly Father because well, everything is going great and we just don't have any one big "issue" to pray about. Our family is healthy; our cars are running smoothly. We have employment and income. God is good so we forget to maintain our relationship with Him. We just don't consider it to be important enough and that "slow leak" is causing more damage over the long haul than perhaps damage of a sudden type.
So how's the prayer life? Slow leaks or clogged drains? Could it be because of "Prayno"? Ok, yeah, that's pretty corny, but our verse for today?
"Pray without ceasing." I Thess. 5:17
Funny note: I've been praying for a friend of mine and her husband. He has been out of work for awhile and guess what? God answered prayer; he's a plumber.