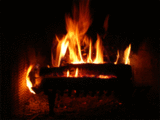 Let it snow…As if we really have the say about whether it snows or not? I mean, who can control the weather? Ok, I know, the song is supposed to be about the attitude… just letting go and letting things happen. Disable the control freak mode. I get it. Well, I'm attempting to get it.
But, my point today is in the first line of the song. If the weather outside were not so frightful, would the fire seem so delightful? Can't remember the last time one of the kids asked Daddy to light a fire in the middle of a 100 degree summer day (ok, my 4 yr. old did once, but he wanted to roast marshmallows, back to the point) The reality is…the fire is especially alluring and pleasant because the external circumstances in comparison are horrid, simply put.
My family has some pretty horrid external circumstances. Over which we have no control. But God. Miracle after miracle in God's Word proves the outcome is beyond our imagination. Trusting God is what we have the privilege of doing; it is the same as snuggling up by the fire. When we spend time with Him, communing with Him, then the horrible circumstances fade into the background and the fire of His presence is so delightful. That thing that we despise becomes an endearment because of the value- it draws us closer to Him. Though we endure trusting days and not-so-trusting days, our God is in control. Click on the link, Steven Curtis Chapman is singing and you don't want to miss it.
Job 41:22 "In his neck remaineth strength, and sorrow is turned into joy before him."